Classically Trained Traditional Naturopath Rights vs. Licensed Naturopathic Physician Rights
Please note, we think it is important to know the facts, figures, privileges and limitations with regard to our sister community of licensed naturopaths.
The first 30-minutes this video from Bastyr, one of 4 licensed naturopathic colleges in the United States, does just that.
Overall, it is a good video with some very interesting information we go over in this post.
However, at the 26-minute mark, they begin to discuss online universities for traditional naturopathy.
Note, they repeatedly emphasize that if you really want to be a physician, then these online schools that teach classical / traditional naturopathy aren't the schools for you.
To that we say obviously!
—A few things to keep in mind:
Traditionally speaking, all naturopaths were classically trained and unlicensed themselves.
As you see in the video, there is a difference between doctor as teacher, or 'docere', and physician.
What is most shocking is that many naturopathic 'physicians' can't practice as physicians either — (refer to the video).
To read about the rights of a traditional naturopath here.
—And many licensed naturopaths have to work on a cash-based model, like their classically trained traditional naturopathic peers, because the insurance model of billing is simply not widely accepted or available for naturopathic medicine and / or licensed in their state.
Many licensed naturopaths do not have the same full prescriptive rights (or any prescriptive rights at all, depending on their state of residence), as their conventional medical doctor peers.
—Yet they still have to pay the same price as conventional medical doctors for med school, which is somewhere around $135,000.
—To top it all off, many will have to practice as 'health coaches' if they live in one of over 20 states that do not offer licensure.
And lastly, not everyone wants to be a naturopathic physician if it requires one to relocate to one of 8 campuses in all of North America (2 which are in Canada, Vancouver and Ontario).
Actually, make that 7 colleges, because Bridgeport just closed their ND program to new applicants in the fall of 2019. (see below).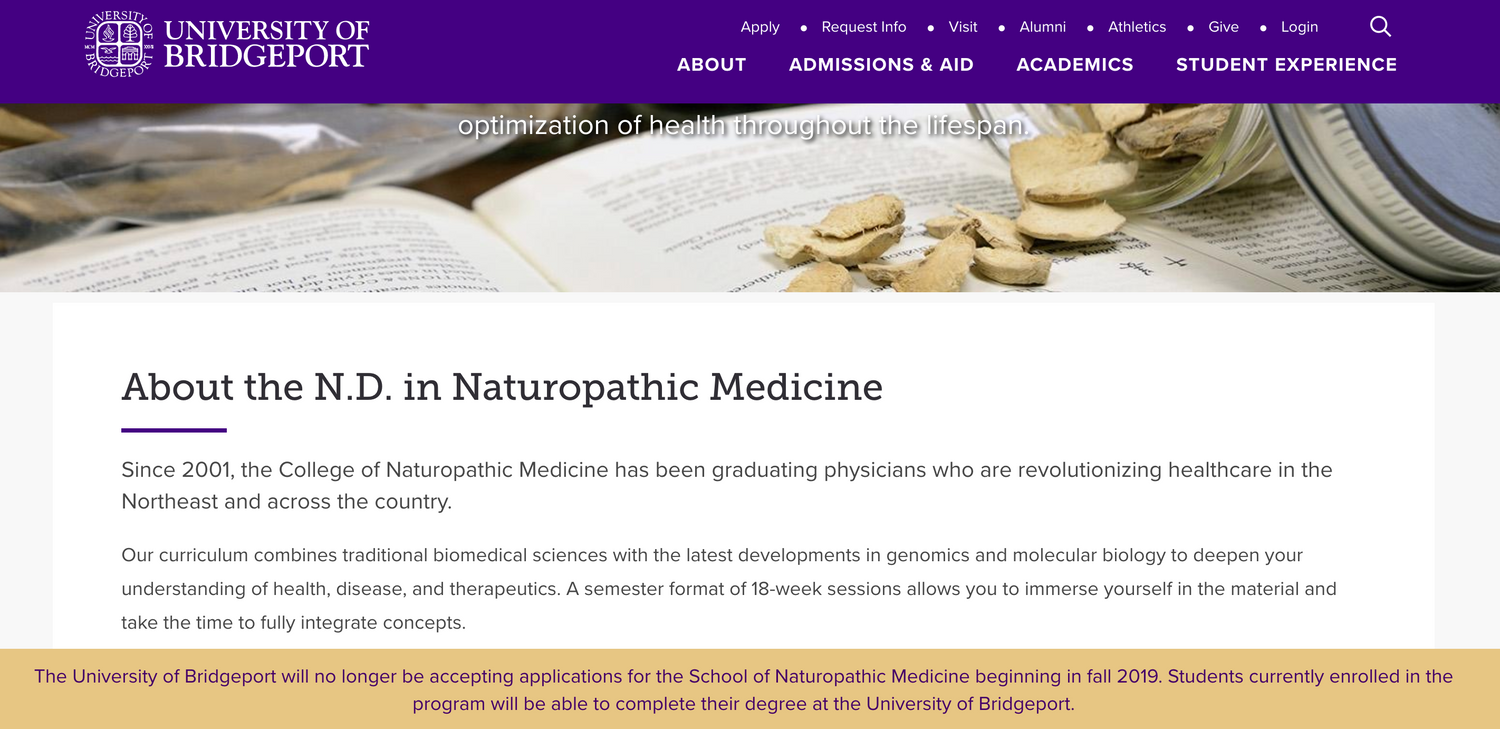 So if you really want to be a naturopathic 'physician', you have 4 colleges in the USA and 2 universities in Canada to choose from.
We count Bastyr as 1 college, with 2 campuses, making it technically a total of 4 colleges in the USA and 5 campuses to choose from. I don't know about you, but where I come from, those are called slim pickins'!
While some naturopathic physicians may do very well for themselves financially, not all do.
Unlike conventional medical doctors in any speciality, who are pretty much guaranteed to be able to pay off student debt with eventual ease, it is not always the case for NDs.
The disparity of the insurance model deeply affects their income and lifetime profitability —as well as their ease and flexibility to pay off student debt when compared to conventional medical doctors.
We refer you back to the articles in the website FAQ about the inhumanity of med school, and the inhumane hours of residencies, in part contributing to medical doctors and residents having the highest suicide rates of any other profession.
I absolutely think med school needs reformed —and I think conventional medicine should stay in their lane of acute care, or move towards more of a functional medicine approach.
Meanwhile…
We have a mass shortage of medical professionals in every speciality.
I personally know many individuals who would make wonderful physicians, but are unable to attend med school due to the exorbitant cost and outdated educational standards for admittance.
—No, I do not need finite math and 20 years of chemistry to be a wonderful physician.
Such unrealistic (non-womyn centric) standards creating barriers to entry do us no favors as a society, and bites the hand that feeds us by creating shortages in quality care and availability for patients.
—For example, sitting in a waiting room for 45-min is shameful to the industry —as are long waits in ER rooms across the country which put everyone at risk.
—So much reform is needed in modern medicine.
I also think residency requirements need urgently updated, which recently forbade more than 80 hours a week (it used to be 120). —rules which are still frequently breached and / or ignored.
And, yes, that means exactly what you think it means.
Med students and residents do not have much of a quality of life, and sacrifice much in regard to self-care, basic comfort, and quality time with family. —Many sleep at hospitals and work around the clock.
Now, back to licensed naturopathy…
Licensed naturopaths receive extreme criticism from the conventional medical establishment due to the fact that less than 1/4 of naturopathic physicians even do a residency —which conventional medicine considers 50% of the educational training of their career.
This further contributes to why naturopathic physician rights are hotly debated by proponents of conventional medicine.
Let me explain a bit…
Many conventional doctors stay in multi-year residencies, depending on their medical specialty. Cardiologist interns, for example, require 5 years, I believe.
This is part of the reason conventional medicine, (as a whole), disputes licensed naturopaths fighting for the same rights as medical doctors.
—A frustration that arises, in part, no doubt, because licensed naturopaths aren't required to do these residencies.
It's kind of like, "that's not fair!", they get to be a physician with half the work! Hmmphh! But I get it. Do you get it?
Instead of residencies, NDs are generally required to participate in 1200 clinical hours starting in their first year.
And not to sound overly critical, but make no mistake —It is not at all the same as a full-time residency.
These clinical rotations take place during school, and paired in groupings of 6, at least at Bastyr. Whereas most residents are on their own and independently learning one on one.
And while their clinical hours are helpful, and of course, still time consuming —it is, in many ways, not as thorough or rigourous as a residency for conventional medical doctors, —even those most basic of residencies, such as family medicine / basic practice.
We are also not saying college for NDs is 'easy', as they often do double the workload of an undergrad, which roughly translates from the 'normal' 12 credit hours per semester to a whopping 27 credit hours per term.
—I do however, disagree that their curriculum is fully adequate, or up to date, for the cost-to-value ratio.
For example, I do not think hydrotherapy should in any way require 4 semesters. I believe that could go towards other therapies, but that is just my opinion.
The bottom line is that reform is clearly needed for both conventional medicine and licensed naturopathy.
Classically trained traditional naturopaths, licensed naturopathic physicians, conventional and functional medicine doctors, all have their place, purpose, and need —assuming they are practicing ethically.
Do I think conventional medical doctors have any business treating anything but acute care? No, not really.
— And, given a choice, I sure would not want a licensed naturopath treating anyone I know for a broken arm or even minor surgery.
Sorry, but… just.. no way!
In that same vein, I also wouldn't want a loved one getting treatment for chronic disease from a conventional medical doctor.
Traditional naturopaths, licensed naturopathic physicians, functional medicine doctors, and DOs (osteopathic doctors) are our best hopes in that arena, as are nurse practitioners and physician assistants.
What do you think?